Supply chains have been tested over the past two years as never before. For many companies this has revealed concerning gaps and vulnerabilities that must be addressed to move forward. There is no shortage of analysts urging companies to enact end-to-end visibility, greater resilience, diversification, breaking down silos, and so on. Certainly, all those things are beneficial.
But not every company is prepared, today, to reach for all of those stars. The particular challenges facing your company are unique to your business, and so is the footprint of your supply chain and the maturity of the processes and technologies you rely on to manage it.
Which kind of supply chain do you have?
Early stage: You still need some fundamentals: your supply chain management is reactive, off-line, and run spreadsheets. Maybe you don't have analytics, or a clear organizational mandate.
Mid-range: You have an ERP and even a BI tool in place, but you need to go to the next level: an end-to-end view of your supply chain, unifying business silos, or democratizing data access for a shared view of the plan.
Advanced: Perhaps you have achieved end-to-end end network visibility, cross-functional collaboration in a multi enterprise supply chain, and you're bringing in real-time data signals and leveraging advanced analytics and automated decision making.
Regardless of where you are today, the truth is that market conditions and competitive pressures will keep evolving. Status quo is not an option.
"Supply chain leaders must regularly identify trends that impact their business and present opportunities to grow and gain an advantage over competitors," says Tom Enright, VP Analyst, Gartner.
Finding a Path Forward
It's also true that technology is a key enabler of driving new business capabilities, increasing supply chain agility, flexibility, and resilience, and moving organizations along the supply chain maturity curve. So, investing in the right solutions to achieve them is paramount.
Assessing your current state and setting your priorities is step one. But when it comes to identifying software to take you to that next level and beyond, that's when many companies hit roadblocks.
The supply chain software market tends to naturally segment according to the size and maturity of its target customers, and aim its functionality at the common denominators in that group. Because of that, when it's time to select software, you are often forced to compromise, like changing your processes to fit the software, or pay for some extra customization. Or you might outgrow it in just a few years.
But that approach doesn't work for most companies anymore. It takes too long, cost too much, and delays the time to benefit.
Download the eBook, 5 Key Questions to Set Your Supply Chain Planning on the Right Path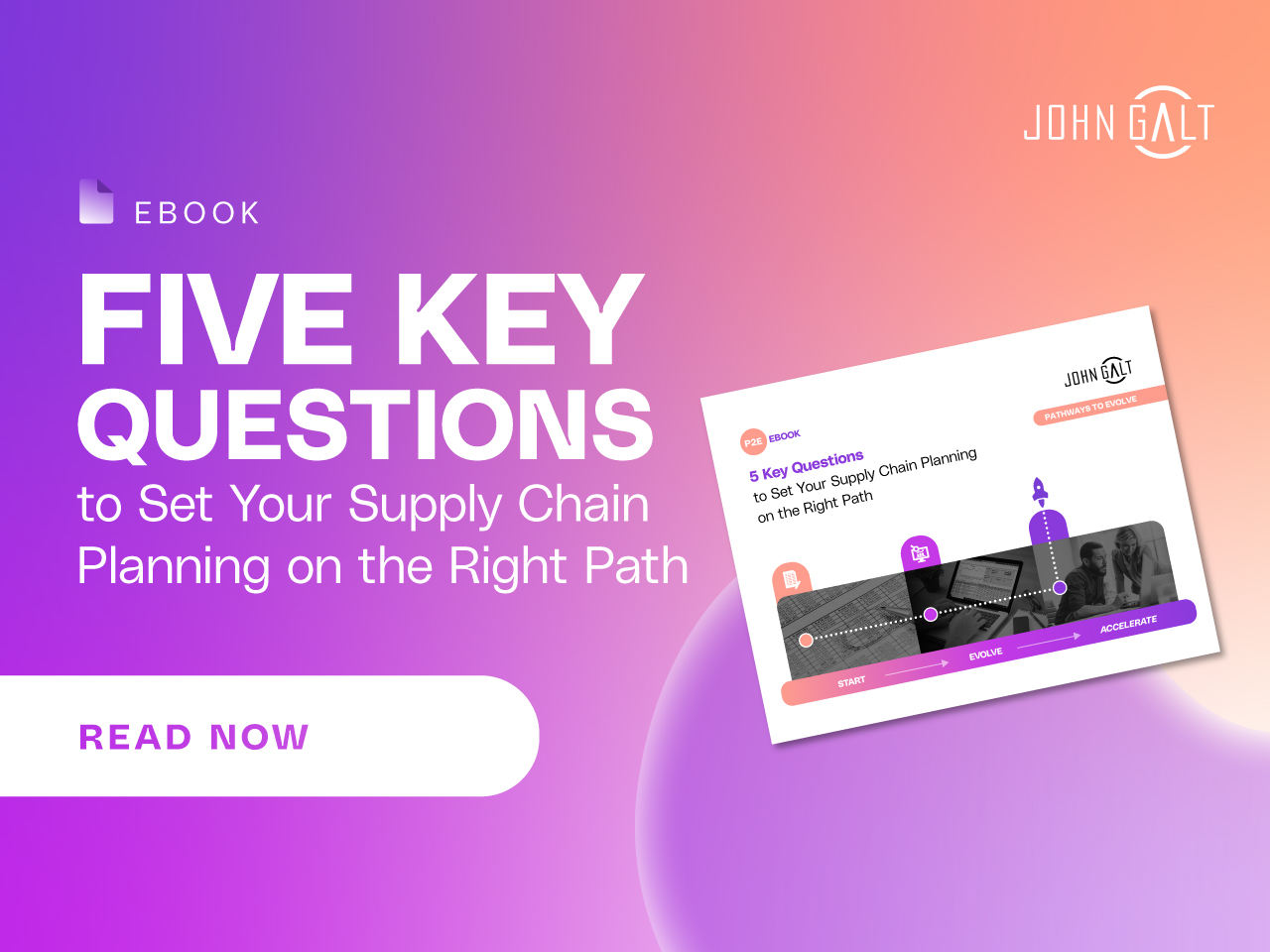 Fast-evolving consumer behaviors and unprecedented uncertainty in the availability of materials, transportation, and labor have thrown the fragility of many supply chains into the spotlight. Discussions of how to fix these issues quickly point to sexy technologies like IoT and artificial intelligence.
Start, Evolve, and Accelerate
Today's supply chains need software that starts with where you are right now and immediately addresses the most critical gaps. Then, once those are in place, it should enable your next-most-needed function, and then the one after that—without stopping to replace or augment the software.
Truly flexible, intelligently designed supply chain platforms do that, but they are rare.
At John Galt Solutions, we've built our entire business around not only developing supply chain planning software that grows with you, but also providing all of the guidance and support required to make that work. Our software is designed to accommodate change and increasing complexity while also helping you steadily increase the maturity of your supply chain planning capabilities.
We do this through easily configurable no-code software that allows you to quickly "turn on" features when you are ready to use them, with best practices built in.
And because we're working so closely with you, we're taking everything we learn about how your needs, and all of our other customers' needs, are evolving. We combine that with extensive ongoing research into the supply chain industry to deliver innovation faster, ensuring our software stays ahead of customer requirements.
There's a reason so many of our customers stick with us, whether they came as a young company or a large global firm with mature supply chains. We grow with you.