Get Ahead of Demand
Turn Demand into a Strategy for Growth
Use Real-Time Continuous Planning to Sense, Shape, and Satisfy Demand
It's true: nothing is more certain in supply chain than uncertain demand. But when the decisions you make are guided by our math, science, and ability to sense and respond to demand variability as it unfolds, you'll create more perceptive forecasts and nuanced demand plans, and be better prepared for what is to come.
Your Journey to Demand Planning Excellence.
Start. Model your base demand signal to fully exploit the forecastability of your data.
Evolve. Optimize and expand your demand models (life cycle, attribute-based, regression, and more). Segment demand to fine-tune the picture.
Accelerate. Use machine learning to automate and optimize your forecasts. Shape demand to reduce risk, boost customer service, and maximize profitability.
Transform. Collaborate and seamlessly integrate data from across your entire supply chain ecosystem. Build trust and collaboration between sales, marketing, finance and more.
Let's Talk
Sense, Analyze, Plan, Shape Demand
Forecast with Confidence

Automatically select and optimize the best forecast methods to remove bias, improve service and account for variances in the plan.

Master the Unknowns

Optimize product introductions and phase-outs, holiday events, promotions and short life cycles using advanced predictive techniques. 

Unite Around One Plan

Create consensus demand plans based on enhanced collaboration between sales, marketing, supply chain, and finance.

Be Prepared, Not Surprised

Prepare for imminent changes to your business by sensing demand in advance, using machine learning to predict changes in demand from both internal and external data signals.

Make Smarter Decisions Faster

Applying AI to demand planning frees up resources and extrapolates your existing data into profit-and-service maximizing insights.

Nurture the Entire Life Cycle

With little historical data - or none at all - supercession and attribute-based forecasting ensure optimal product predictions from launch to retirement.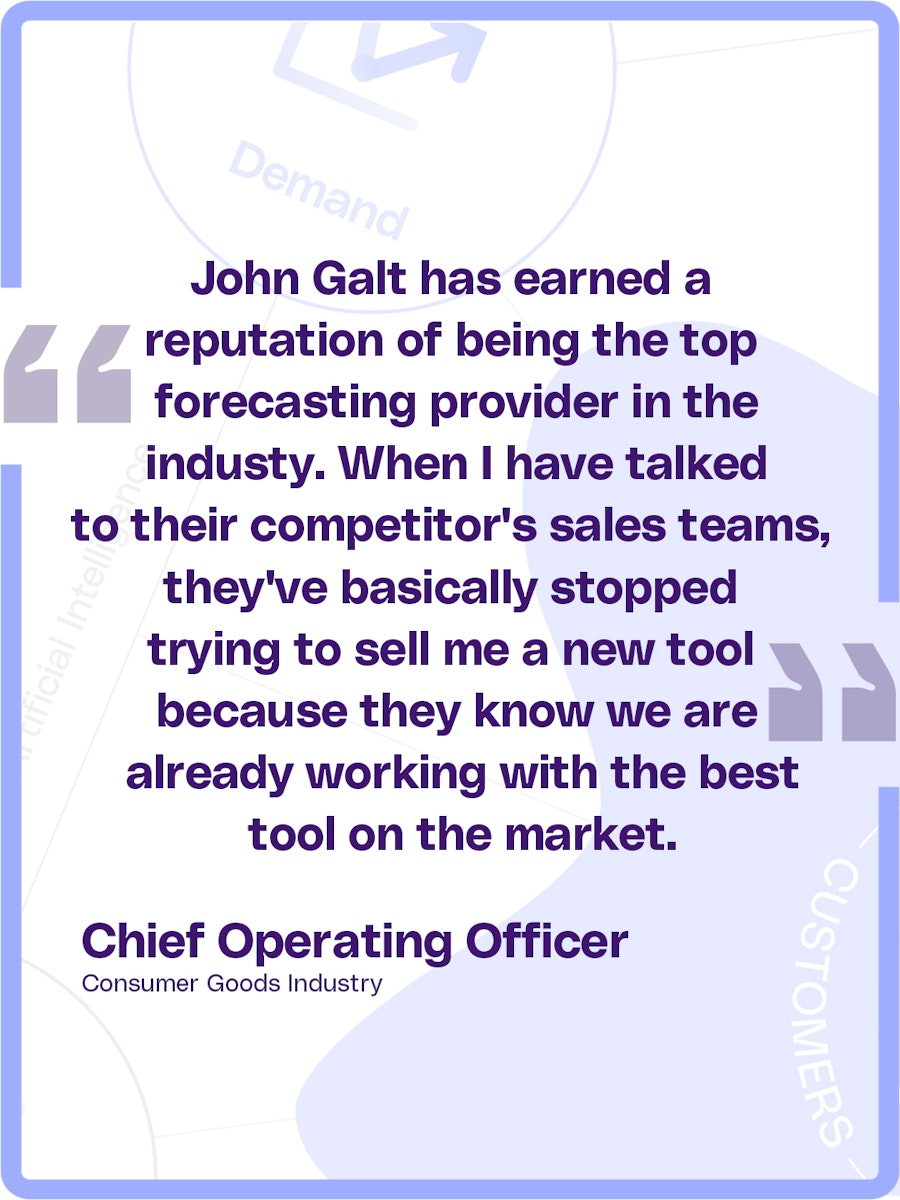 Insights to Elevate Demand Planning
Explore a wealth of knowledge to enhance your forecasting and demand planning expertise. Dive into our thoughtful selection of blogs, webinars, eBooks and more to uncover insights and best practices to elevate your demand planning practices.
Time to Demand More!
Continue your exploration below and see why supply chain leaders like you turn to John Galt Solutions to transform their supply chains.
S&OP
When planning becomes integrated...
The Atlas Planning Platform takes you beyond S&OP by uniting disparate elements of your business into a single powerful process that integrates operational and financial plans to maximize business opportunities and minimize risk.
Atlas starts by integrating your demand and supply data from all sources and granting proper levels of supply chain visibility to all stakeholders. Then it employs collaborative planning, automated workflows, and real-time scenarios to generate valuable insights, understand the financial impact and execute based on strategic goals.
But that's just the start.
Learn More