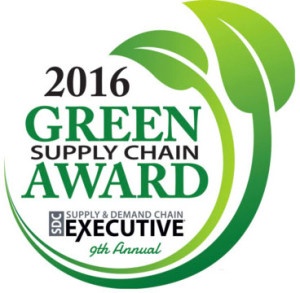 Supply Chain and Executive Magazine announced the winners of the 2016 Green Supply Chain Awards last week and John Galt Solutions was awarded for their work with Method Home. John Galt Solutions was highlighted as a key player, who are assisting their customers in achieving measurable sustainability goals.
Chicago, IL., December 16, 2016- The Green Supply Chain Award recognizes companies making green or sustainability a core part of their supply chain strategy, and are working to achieve measurable sustainability goals within their own operations and supply chains. The awards also recognize providers of supply chain solutions and services assisting their customers in achieving measurable sustainability goals.
This year's ninth-annual awards recognize small, mid-size and large enterprises that leveraged green practices and solutions to further drive sustainable improvements in their supply chain.
"Our honorees are showing that the bottom line and corporate responsibility are not mutually exclusive," says Ronnie Garrett, editor of Supply & Demand Chain Executive. "This has been increasingly evident over the past few years and is relatively clear with the large number of entries we received this year—almost 200—for our annual green awards. Sustainability has, for these companies, become a key part of their supply chain strategies."
"Our goal is to honor those companies in our annual awards and credit them with the recognition they deserve," Garrett adds. "They have recognized the need for supply chain sustainability, something that's not always easy to do."
Additional Resources
About John Galt Solutions
Since its founding in 1996, John Galt Solutions has built a proven track record of providing affordable, automated forecasting and inventory management services for consumer-driven supply chains. We have an unmatched ability to configure tailored solutions for customers, regardless of size or business challenge, that save both time and money by compressing implementation periods and delivering intelligent information that positively impact your bottom line.