Sustainability pressures are increasing for supply chains around the world as companies navigate a complex environment with economic uncertainty, geopolitical instability, challenges, and disruptions. With the rise of environmental and social awareness, consumers and stakeholders are increasingly demanding that companies adopt more transparent and sustainable practices throughout their operations – from sourcing and production to delivery of finished goods. Embedding sustainability into supply chains is not just a matter of meeting regulatory requirements or responding to stakeholder pressures, but also a strategic opportunity to reduce costs, improve efficiency and enhance brand reputation. However, despite the benefits, many supply chain leaders are facing challenges in implementing sustainable practices. 
In this Q&A article we talk to supply chain expert & adviser Zsofia Agnes Nagy, to explore some of the challenges supply chain leaders are facing, the steps that companies can follow to assess the impact of their operations and to build more sustainable supply chains, and what key considerations they should take into account as they pursue this endeavor. 
With a career background that spans more than 19 years, Zsofia has garnered experience as a supply chain professional working in both industry and consulting roles, cultivating her knowledge in sustainability and systems thinking through various projects and opportunities particularly in FMCG and applying her expertise to other sectors including pharma, biotech, MedTech, and beauty.
JG: In your experience, what are some of the biggest challenges to implementing sustainable practices in supply chain?  
Zsofia: Sustainability is not a project for a separate department but the whole company that needs to operate sustainably and most companies lack the relevant knowledge. It is not that easy to suddenly upskill the whole organization without investment from the leadership and the owners.  
The next challenge is the lack of solutions available at scale that are sustainable, and not enough opportunities to match larger organizations with smaller, sustainable ventures.  
Last, but not least, many still perceive sustainability as a retrofitting action where sustainable solutions will be found for our current, linear practices. This is certainly not the case and we will have to embrace a change in mindset that will lead to a change of business models and consumption models, thus a change in how we manage our supply chains.
JG: What advice would you share with leaders on balancing the need for efficiency and cost-saving measures while pursuing supply chain sustainability?  
Zsofia: I usually say this: Be pragmatic and never discount how efficiency or cost-saving tools can also bring you new solutions that can be sustainable. Sustainable solutions aren't necessarily more expensive. Companies need to explore those revenue streams that they haven't thought of in a linear setup - that can really help offset some of the cost increases.  
Secondly, I can share one of the projects I worked on already 15+ years ago for one of the FMCG companies: we had to ensure their operations met the natural conservation area requirements as they wanted to operate there (that was the center of gravity for the area they wanted to cover) and we did it in a profitable way already back then. So with all the innovation we had since and we still have now, we simply cannot say the business case is not viable. We can do better than that.
JG: How do you think technology can be leveraged to improve sustainability in supply chain?  
Zsofia: This is super versatile. Tech can help companies in almost every way possible. I'd say the most important solutions remain to be:  
Well-functioning backbone: ERP and further planning systems relevant to the size & complexity of the supply chain (if they have the resources, then a digital twin of their full operations).  
Solutions that support high data quality with the frequency that is aligned with the pulse of the supply chain and are able to produce relevant, actionable insights for decision making & strategizing. 
Solutions that can provide cyber security for the entire supply network (infrastructure and software as well)
Blockchain solutions for inter-relational transparency along the full value chain (these are the most difficult to implement due to the numerous variables behind - not impossible, but it will take time)  
AI and ML solutions, to leverage the collective knowledge regardless of source for sustainability solutions. 
What I also find important is that no organization needs an arsenal of tech solutions, they need the relevant and size-appropriate solutions.
JG: In your opinion, what are some important considerations for companies to keep in mind when looking to make their supply chain more sustainable? 
Zsofia: The most important aspects for me are:  
Sustainable companies and supply chains are sustainable in every aspect. So sustainability actions need to be part of the core of the company and not a separate function or role. Everyone's role is a sustainability role - this is especially true for supply chains.  
Please do invest in your organization and involve them in the process. There are a lot of options to engage & develop every single employee, and enable them to see how important it is to think sustainably every day when they are looking for solutions via their own roles and then take action. Make it an individual goal as well in the performance evaluations.  
Quality of actions instead of quantity of actions. Rather promise less, but make it true, than get caught in greenwashing (even if it is due to lack of knowledge). These also need to be in the company-wide incentive structure for all, but especially for leadership: old incentives need to be revised to ensure they are sustainably defined.
JG: Do you have any tips to share for leaders to stay up-to-date on industry developments and best practices in supply chain sustainability?
Zsofia: For this particular aspect, I'd recommend leaders to engage with supply chain networks which regularly publish sustainability related research, solutions, struggles & results from other organizations (after the fact, not the wishful thinking) and thought leadership – even if they publish someone else's insights, as the point is the sharing of the much needed knowledge.  
I could recommend the FIN (Future Insights Network), the Ellen MacArthur Foundation or the Circular Supply Chain Network, UNEP, and IPCC as a start. I'm also sharing regular news on LinkedIn - if you follow my page and/or sign up for the newsletter, you can get valuable insights as well.  
From a regulation point of view, I'd definitely recommend following the relevant regional authorities and local/country authorities - as it was before for supply chains, like the German supply chain due diligence act now or further ones coming. European based supply chains should follow the main regional institutions and their publications. In such places, they actively share even relevant industry information for networking within the field or even financial support for smaller companies or for direct investment for sustainable projects.
JG: How do you help companies assess and reduce the environmental impact of their supply chain?  
Zsofia: I help them in 4 ways:  
Assessing their current situation for the entire supply chain from a sustainability point of view. The method is fairly common in consulting, the difference is the questions and the variables I'm looking for to establish a view of how sustainable one operates (including their network!)
Helping them find relevant new ways of working (sustainable business models and how the value chain needs to change accordingly). Here I also help them find sustainable partners, wherever I can and see where the existing strategies & incentives need to be changed to ensure they don't drive a different agenda.
Carrying out specific relevant evaluations based on the overall assessment, such as LCA (life cycle assessment) or the actual impact assessment.
Pursuing sustainability certifications. If a client of mine wants to pursue sustainability certifications, I also help them, as it can make it or break it for some of the SMEs in particular. I don't do certifications myself, but rather help them get there and ensure it is not a checkbox exercise, but true change.
---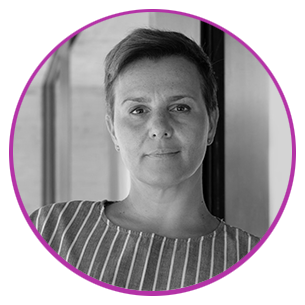 About Zsofia Agnes Nagy 
Supply Chain Expert & Adviser, BZLW GmbH 
As an award-winning strategic supply chain expert, Zsofia brings solutions that help companies become sustainable while remaining profitable based on 19 years' experience in industry and consulting roles, primarily in FMCG, pharma, biotech, MedTech and cosmetics industries.