Highlights from the Webinar: Baby Gear Maker Teaches a Lesson in How to Handle Growth Amid Disruption
By now the impacts of supply chain disruption have become all too familiar: material shortages, labor constraints, inflation, limited warehouse capacity, transportation challenges, and many more. While supply chains have been balancing on a fine line between costs and agility, leading organizations have strived to handle growth in a persistently disruptive landscape. Global baby gear manufacturer Wonderland Group (brands including Nuna, Joie, and Graco) is a great example of how to accelerate supply chain transformation and power growth in the midst of constant disruptions. 
The largest manufacturer of baby car seats and strollers in the world, Wonderland Group expanded production and direct-to-consumer (DTC) sales, managing outstanding growth across its multichannel supply chain amid significant challenges and constraints – an achievement made possible by digital transformation.  
How did this vertically integrated global baby gear manufacturer achieve its transformation? Wonderland Group shared lessons from its remarkable journey to transform its supply chain and handle growth amid disruption in a live webinar presented by John Galt Solutions and Supply Chain Movement (SCM).  
The interactive session uncovered key components of Wonderland Group's supply chain evolution to harmonize data across subsidiaries. The company shared key points of its implementation of John Galt Solutions' Atlas Planning Platform to respond to challenges and automate critical processes, leading to end-to-end supply chain visibility, increased agility, and improved service levels. 
The online discussion was led by Martijn Lofvers, CEO at Supply Chain Media, Lukas Karnasch, Director Business Analysis & Planning at Wonderland Group, and Matt Hoffman, Vice President of Customer Success at John Galt Solutions.  
Here are the key highlights from the webinar:
Creating a digital supply chain model to overcome challenges and maximize opportunities.   
Wonderland Group shared how the company faced several challenges threatening the performance of their supply chain including labor shortages, container capacity, factory shutdowns in China, and fluctuating shipping rates, while consumer behaviors were shifting due to the explosive growth of e-commerce. On the other hand, the company had limited distribution and warehouse capacity, based on a simple model of shipping single SKU containers. 
To seize opportunities with the growth of DTC channels and address warehousing challenges, the team implemented John Galt Solutions' Atlas Planning Platform to automate and optimize processes across the supply chain network. 
During the webinar, Martijn Lofvers from SCM, explained how SCM positions John Galt Solutions in their IT Subway Map and mentioned some of the capabilities provided by the Atlas Planning Platform as placed through the various colored subway lines:   
"To explain briefly how we position John Galt: They have a lot of references in Sales & Operations Planning... they provide a lot of forecasting functionality and they have done a lot of work with Inventory Management, especially in Europe. " - Martijn Lofvers, CEO & Chief Trendwatcher, Supply Chain Media 
Lukas Karnasch of Wonderland Group expressed how the company has been able to harmonize data across subsidiaries within Atlas, integrating distribution and transportation to manage multi-tier replenishment including allocation and inventory balancing across the entire supply chain network.   
"All our subsidiaries are integrated in the Atlas Planning Platform. We have one single view to see inventory across subsidiaries. With Atlas our S&OP (Sales and Operations Planning) is automated and we can forecast well in advance." – Lukas Karnasch​, Director Business ​Analysis & Planning​, Wonderland Group.
Creating a dynamic and automated distribution fulfillment model  
Prior to implementing the Atlas Planning Platform, the team at Wonderland had a simple model of shipping single SKU containers, which supported efficient manufacturing but did not optimize to account for warehouse or transportation container constraints.​ With Atlas, the team now operates an automated distribution fulfillment model that accounts for supply constraints, channel shifts, and more.  
Leveraging the outstanding growth of DTC channels, which now represent 20% of the business, Atlas enables Wonderland Group to ship orders directly to customers, bypassing their warehouses.  
Atlas also enables the company to maximize warehouse capacity by projecting space requirements and availability; and automating the process by where the system 'picks clean' from their mixing warehouses in Asia before creating a new purchase order. The team has automated container optimization using mix containers versus shipping single SKU containers, with the ability to pull forward or push back purchases based on regional warehouse space. Wonderland has therefore enhanced warehousing efficiency through better planning.   
"Wonderland now has an integrated plan where all the subsidiaries are sharing data and all the information is flowing through to the global team, driving efficiency at regional and mixing warehouses. This amounts to a production plan that makes more sense and is much more attainable." – Matt Hoffman, Vice President Customer Success at John Galt Solutions. 
Establishing end-to-end visibility across the supply chain and harnessing the benefits of a digital supply chain twin.   
Expanding upon what Wonderland Group's transformation looks like, Lukas Karnasch explained that in spite of the global scale of the company, much of their processes were previously performed manually with a very low degree of automation, and the team lacked visibility across markets and products. So, the company saw the need to upgrade to a supply chain planning software to increase agility and optimize performance in order to drive business growth. 
"As we grew and grew, it became apparent that we needed to integrate processes in one system to suit our business needs. We needed a system like Atlas." – Lukas Karnasch​, Director Business ​Analysis & Planning​, Wonderland Group.   
With Atlas, Wonderland Group has one platform connecting data, decisions and operations. The company acquired end-to-end visibility across suppliers, partners, distribution centers, warehouses, and fulfillment channels, and the team is making the most of real-time data insights to sense and respond to events and changes in demand and supply.  
Further to reaping the benefits of visibility across the network, Wonderland Group is gaining a competitive edge through end-to-end modeling. Matt Hoffman highlighted the key benefits of a digital supply chain twin and how the technology is driving results for Wonderland Group, as well as for many other John Galt Solutions customers. 
"The digital supply chain twin mirrors the real world with near real-time data, showing all the different relationships in the network – and how they interact with products and different warehouses (…) One of the benefits that come out from having that digital supply chain twin is being able to evaluate the trade-offs on balancing the risks and opportunities." 

"The digital supply chain twin drives results by evaluating trade-offs and scenarios and recommending the right course of action. (…) It's key to have that separate twin to run the different analyses and provide insights, and then feed the data and recommendations from the digital supply chain twin back to the plan to release orders and drive your business." - Matt Hoffman, Vice President Customer Success at John Galt Solutions.
To learn more about Wonderland Group's supply chain transformation journey, watch the full webinar here.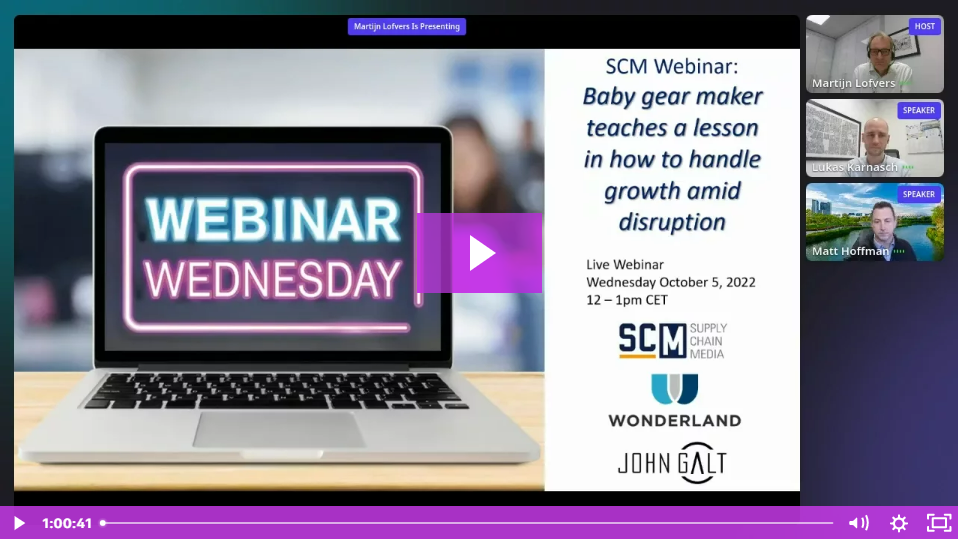 To see how Atlas Planning Platform can help your company to accelerate your supply chain planning, schedule a free consultation with one of our experts today.