By Peter Schram, Founder & Advisor, Breakthrough Advisory
Organizations face significant pressure to deliver results under extremely challenging circumstances. Integral decision making is vital to support business objectives and move away for a focus on functional siloes. This blog discusses the key elements to address the move from traditional supply chain focused Sales & Operations Planning (S&OP) to customer-centric Integrated Business Planning (IBP).
Increasing supply chain complexity and requirements put pressure on supply chain
Many organizations are confronted with increasing demand volatility, portfolio complexity and restrictions in material supply. COVID-19 has further changed demand expectations with lasting impact. Also, the pressure on supply side remains high with many ongoing disruptions. The associated risks and opportunities in the supply chain have significant impact on business performance. This puts pressure on the supply chain to deliver results that support business (financial) performance.
At the same time, macro-trends like exponential technology developments, sustainability and globalization are pushing organizations to rethink their strategy. Their business and operating models need to be made ready for the future.
There is a need for tight integration of supply chain and business planning to align with and execute on new business strategies.
Good is not good enough – reactive and supply chain driven S&OP is insufficient
An S&OP maturity model is a tool that helps assess the current effectiveness of S&OP and define capabilities that need to be developed to improve performance. Most organizations have a relatively low maturity between level 1 and 3 on the 5-point scale of the Gartner S&OP maturity model, one of the best know S&OP maturity models.
S&OP at that basic level is focused on short-term operational issues and risks (between 1 and 3 months) and aims to balance demand / supply. The process is quite static (Excel-based) and time consuming (manual). Metrics often compete and the planning processes is focused on internal and functional efficiency and cost control. The involvement of other functions beyond supply chain is limited. Often, there are separate planning cycles for strategic planning, financial planning, sales planning, and procurement planning and these cycles are only loosely connected or not connected at all.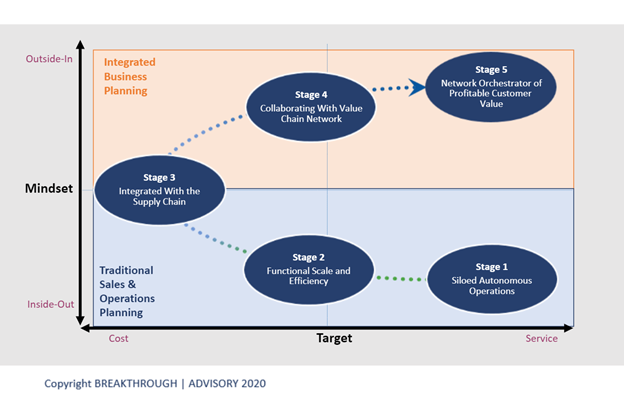 Figure: Gartner 5-stage S&OP maturity model
While there is nothing wrong with operational demand / supply balancing, the added value for the business is limited. Lower maturity S&OP generally does not link to other functions or financial objectives, e.g., maximize profit margin or lower operating cost. Decisions that might benefit supply chain performance might not be optimal from integral financial performance standpoint. For example, optimizing utilization might be good to lower operational costs but might lead to low service due to limited flexibility or high inventory levels due to large batch sizes. It also doesn't provide a line of sight on progression towards achieving the business strategy.
Moving to great – a pro-active and business driven S&OP is necessary
An evolvement of S&OP is required that addresses the complexities of current supply chains and strategic challenges to reap the business benefit of planning. It aims to make the best decisions for the business instead of for the functional siloes. Integrated Business Planning (IBP) aims to elevate traditional Sales & Operations Planning to a next level of maturity to support these requirements. IBP will improve overall visibility in the end-to-end value chain to enable better trade-off decisions across the business and ecosystem instead of focusing on supply chain decisions in isolation.
This higher maturity level of S&OP focuses on cross-functional integration and external collaboration. It also takes a more external view, focusing on the customer instead of looking at internal optimization. A more mature S&OP creates a bridge between strategy and execution by aligning strategic, tactical and operational planning. To make a clear distinction with traditional and lower-level maturity S&OP, higher maturity S&OP is often referred to as Integrated Business Planning (IBP).
What makes planning great – key characteristics of Integrated Business Planning
To understand the difference between basic S&OP and IBP, it is important to understand what advanced S&OP looks like and the key characteristics that distinguish S&OP from IBP.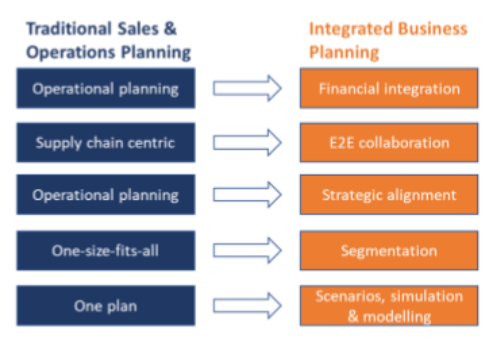 1. Financial integration
To make the best business decisions it is necessary to understand the financial impact of the plans. That is why in IBP volume plans are translated to financial plans to pinpoint the gaps to (financial) budget. Discussions and decisions in executive S&OP focus on top line revenue, profitability and return on capital rather than looking at supply chain metrics like service (OTIF), inventory and forecast accuracy in isolation. To support decision making, the scenarios and alternatives discussed to close budget gaps need to be evaluated on financial impact. This will raise the awareness to meet financial and/or growth opportunities.
2. End-to-end collaboration
Integrated Business Planning aims to take decisions over the functional siloes. To achieve this improved collaboration is required. This starts with better alignment within the supply chain between source, make and deliver. In addition, this requirescollaboration across functions in the enterprise like marketing, sales, product management, R&D and finance . Better synchronization with customers and suppliers is a necessity as well. In the most extreme level of IBP, planning takes the best decisions for the ecosystem instead of looking at individual enterprises or organizations.
3. Strategic alignment
In IBP there are different planning cycles for operational planning (S&OE), tactical planning (S&OP) and strategic planning (long range planning). These planning cycles have different frequencies, governance and level of granularity. Separate cycles create focus on specific decisions that are required for than planning horizon. What makes the biggest differences is the connection between the cycles. There is a top down information from strategic to tactical and operation planning to make sure decisions are in line with strategy. There is also information flowing bottom-up from operational and tactical planning to strategic planning that provides input for calibrating the strategic direction.
4. Segmentation
Strategy starts with understanding what a customer wants and values. Each customer is unique; this is not a one-size fits all model. In a one-size-fits all model supply chains can be over engineered for some customers while not delivering enough value for others. This can lead to different business and supply chain response per customer group. Determine the key requirements for different customers, logically group them and define the strategy to serve their needs. Design tailored supply chains to support the different customer groups and take decisions in line customized strategy.
5. Scenarios, simulation and modelling
With the extension of scope of S&OP, decision making also becomes more and more complex in IBP. Trade-off decisions need to be made across connecting planning horizons, integrating financial planning and across the end-to-end value chain. The amount of options and alternatives to deal with risks, constraints and uses is increasing as well. This requires simulation and modelling capabilities to deal with all variables and to allow for clear oversight and insights to facilitate decisions. Excel will not support this.
From good to great – 4 tips to move to Integrated Business Planning
It is difficult to grow maturity of planning. Only 35% of organizations are satisfied with their current S&OP process and performance1. As we look at building the IBP capability, organizations tend to run into three challenges: a culture of functional silos , significant data challenges and a lack of knowledge required to build the processes. Here are four tips that will help you shape successful change towards IBP.
1. Build the case for change
Speak the language of the stakeholders in the organizations by explaining the benefits of IBP in terms they understand. For example, in financial language. Make tailored presentations for different audiences, understand their concerns and highlight the benefits for them. Explain how IBP will help improve their performance. Team up with finance to understand their requirements and have them become co-owners of the business case.
2. Educate senior stakeholders
Define who your key stakeholders are, their opinion towards IBP, their knowledge level and what they need to know to support engaging the rest of the organization. Take the time to explain the vision of IBP and what the processes and meetings will look like. Start simple with basic concepts. Step-by-step get into the level of detail they require to help drive the program. Ask senior stakeholders to sell the story in- and externally.
3. Design the outside-in end-to-end process
Identify what customer and supplier signals drive supply chain performance. Define what good performance looks like for the different stakeholders. Engage with functional experts both in- and externally to understand what insights they need to support the business and supply chain performance (e.g. level granularity, frequency of planning). Build the process around the customer.
4. Technology
Define the requirements for planning systems to support the outside-in IBP process. Understand how to synchronize with customer and supplier systems and how to integrate data bi-directionally. Partner with finance to identify alignment with financial (planning) systems.